The global E-Commerce market is paving its way to the upper-crust of success by each passing year. If we talk about e-commerce trends 2018, then there's a lot that is going to happen. There will be an increase in e-commerce sales that is going to give a huge profit margin to all the e-commerce retailers. The focus is to increase e-commerce economic sales and stay at the peak every time. According to a study published by eMarketer, the sales are expected to exceed $4 trillion by 2020. The e-commerce sector is always rummaging new ideas to be at the top of the list. With big artists of e-commerce competing with each other, it is difficult to survive and meet the customer's demand every now and then.
According to pwc, Around 39 percent of online shoppers use social networks to get inspiration for purchases. It is now the need of the hour that all the e-commerce companies should keep updating themselves with latest trends.
So let's discuss which e-commerce trends are going to dominate the market in 2018.
1. Animation
Motion is going to be a gamechanger in all this process. A tinge of animation on the e-commerce website is going to be a pre-requisite. Using some kinds movements can enhance the user experience. But make sure not to over-use the animations as will ruin the customer's interest.
Using some animation techniques will make it more interactive and it will attract the attention of the customer big time. Animation tools like EWC Presenter, Vcasmo, GoAnimate, PowToon to name a few can make the job easier.
2. Better photography and videos
Customers always like to see real-time photographs. And when comes to shopping online, the original pictures play an important role. Using stock photos is a big no-no. In order to make the user experience richer, you can 360-degree photograph showcasing the whole product.
Also displaying GIFs and high-quality videos can make the user happy to see the whole product instantly. Now, Flipkart also has included GIFs while showing the product.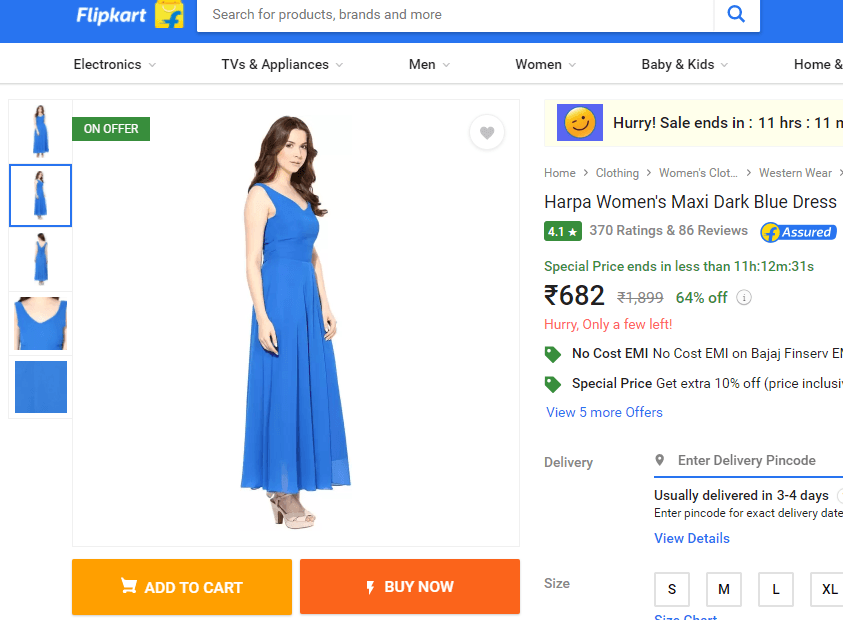 3. Social Shopping
This has become the most popular trend these days of e-commerce. While browsing on Instagram or Pinterest, you may across some ads. You will not even realize that how these marketers are promoting their products. And as a customer, we tend to click on the shop now button.
Therefore, the trend of showcasing the product through such application is going to pick up more pace in the coming year. The reason behind advertising on such applications is that the audience spends most of their time on these social platforms.
So when the customer clicks on the now button, a window appears where the purchase can be direct. This enables the customers towards a fast track process and such tactics actually attract the customers.
4. Use of Augmented Reality and Virtual Reality
In 2018, AR and VR are going to enhance not only the in-store experience but also the e-commerce sector. Also, the companies are investing a lot of time in developing the ARkit. According to Retail Perceptions, augmented reality will generate $120 billion in revenue by 2020, so retailers have every reason and opportunity to leverage this enhanced experience with shoppers.
The ARKit by Apple blends digital objects and information with the environment around you, taking apps far beyond the screen and freeing them to interact with the real world in entirely new ways.
Houzz's app lets you take rooms in your house and then place multiple products within them, virtually, from a selection of 500,000 product images.
5. Machine Learning for Automation
This one is going to be a big hit in 2018. Machine learning can be used bet to automate the processes and have higher conversion rates. The emails can be made more personal and it is better to try our attractive phrases to lure the customer.
Soon shopping carts will use machine learning to make the conversion even higher. If you regularly purchase an item every three months, the system will remember it, and you'll get an email asking if you would like to reorder the item based on when you previously ordered it.
6. Voice search everywhere
People now are taking the assistance of voice search on their mobiles heavily. Siri and Google Assistants are getting a lot of important these days. In 2018, the voice will be one of the leading drivers of innovation in the e-commerce space and not just on mobile.
Amazon's Alexa and Google Home are literally driving the market towards a different direction. Walker Sands Digital indicates that almost one-quarter of consumers (24%) own a voice-controlled smart appliance such as an Amazon Echo or Google Home, and a further 20% plan to purchase one in the coming year.
Use of these devices to complete purchases has also grown, with 19% of consumers have used their smart appliance to make a purchase, and a further 33% of consumers planning to do so in 2018.
7. Fast shipping and better delivery logistics
It is true that in this year, the shipping is going to be as quick as it can be. Amazon is considered as the king when it comes to on-time delivery and instant shipping. Now Flipkart has also stepped into the race with quick 24 hours delivery process. This year Amazon is planning to automate the shipping process furthermore. This kind of game will be giving a tough fight to its competitors.
8. Implementation of Big Data in e-commerce
Data is everywhere. With millions of customers buying products online, there is an infinite amount of data that generates every day.
Every action made by the user turns into some kind of data and that data can be useful for the e-commerce site to know their target audience. This data in high volumes can be used to implement the digital marketing techniques on all the platforms by the e-commerce brands. The e-commerce giants can implement personalized marketing, segment marketing, native marketing to name a few to boost their business.
9. Curated shopping
Several brands and retailers, especially those active in emotion- and inspiration-driven industries like fashion, beauty or furniture retail, started to integrate curated commerce concepts to help shoppers discover interesting products based on their personal preferences. So they sell the product with their opinions like writing a blog or articles on it. This kind of shopping will be trending in 2018 for sure.
10. Use of chat-bots
The global chatbot market has attained a whopping 24.3% of CAGR(Compound Annual Growth Rate); over 45% of end users consider chatbots as the primary choice, for customer service inquiries.
With many e-commerce brands like Sephora, eBay, Aerie, Spring Bot are using chat-bots to enhance the user experience. The chat-bots give a personalized marketing experience to the customers. Along with this, it also suggests the relevant products to the customer. These chatbots have a proper integration with the messaging apps.
11.  Better UX/UI
Every e-commerce website is judged by its customers on how they showcase the product. User Interface and User Experience really counts a lot in such cases. If we look at Sephora's website, the UI is so attractive that a customer won't leave the website without buying the product.
Make sure that the website is responsive on mobile and the website is clutter-free. Then only there will be an enhanced UI and UX.
The race to win the medal in e-commerce sector is going to be more competitive in the coming days. With the inclusions of new technologies, the customers are now completely educated on what they are doing. So. the e-commerce giants have to find the tactics to retain the customers in the long run. Every e-commerce business has to stay updated with the latest trends in the market.
Therefore this guide will help you in understanding the recent market trends that are going to gain popularity in 2018.
You can try to come up with innovative ideas to create a buzz in the market. So, all the very best!