Are you looking for Video Editing Course or Animation Course in Nashik?
To help you find the best-suited course for you, we have curated a list of the top 10 Video editing and Animation courses in Nashik including details such as course curriculum, duration, fees, placement opportunities, certifications, and more.
Before we head to Video editing and Animation courses let us first understand the scope and importance of Video editing and Animation
Scope of Video Editing and Animation
Plenty of chances are waiting for video editors in leading production houses and also freelancing is possible so that they set and direct their documentaries and edit them. With a few years of experience in video editing, video editors reach a position where a high salary package is offered.
A skilled video editor with splendid creativity can get placed in a large studio with Rs.25, 000 – Rs.75, 000 per month.
Importance of Video Editing
Video content is extremely popular and easy to share on platforms like Facebook, Instagram, Twitter, and LinkedIn. It's a great way to deliver content of value and increase brand awareness on those platforms. You can put your message right in front of your target audience without ever having to leave the office. Nearly 85 percent of consumers said a brand's video helped them make a decision to purchase a particular product.
Becoming a video editor or an animator has its own set of benefits, and you have a wide range of opportunities awaiting you for further career growth. But it is also very important to learn these skills the right way.
Top 10 Video Editing and Animation courses in Nashik
1. Video editing expert course by Video Garage STAENZ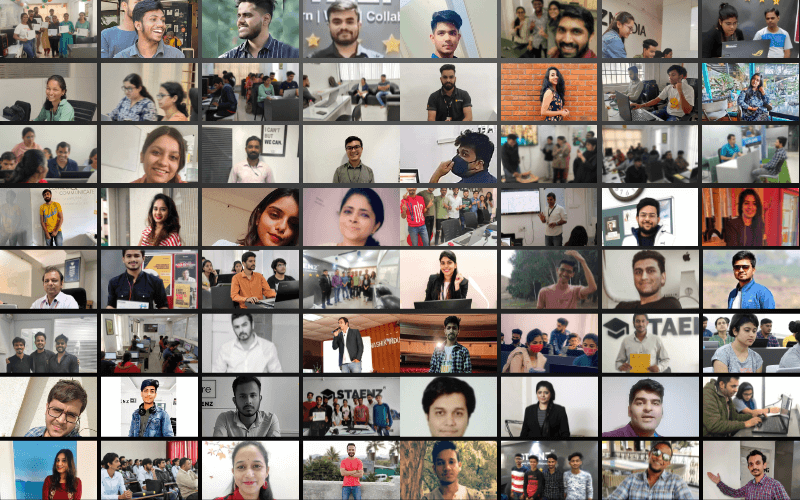 STAENZ is an award-winning digital marketing academy and Video Editing Course Institute providing online and classroom training with in-depth practical knowledge. STAENZ Academy conducts daily classes to train students and working professionals about the latest tools, strategies and topics. Live demonstration and Hands-on Experiences are the main part of their training procedure.
The duration of the Video Editing Expert Course/Program will be 3 months. In this course you will be learning tools like
1. Adobe Premiere Pro
2. Adobe After Effects
3. Basics of Photoshop and Illustrator
4. Mobile & Smartphone Apps to create short form video content
After the course you will be able to create Professional videos for marketing and media houses
Type of videos which you will be able to create after taking the course are
Promotional Videos – A promotional video is used to promote a specific marketing initiative, sale or event.
Explainer Videos – A video which highlights company's product or service for marketing and sales purpose.
News Videos – A video created to look like a news report
Interview Videos – An interview video is a video used to take remote interviews
Documentaries – documentary film or documentary is a non fictional motion picture intended to document reality
Wedding Videos – A wedding video is a video/short film that highlights the best moments of the wedding day
Typography Videos – an animation technique that pairs text with motion to convey ideas and evoke emotions in viewers.
Social Media Reels – Social media reels are a form of short form video content on platforms like Youtube and Instagram.
Course highlights
Introduction – Introduction to video editing softwares like Adobe Premier Pro. Uses of Adobe Premier Pro and basic rules of video editing are covered.
Editing techniques – Editing techniques like zooming vertically on the timeline, using the ripple edit tool, lifts, extracts and much more
Adding transitions – Adding, editing and creating transitions. You will learn how to refine and smoothen the transitions. You will also learn how to combine standard transitions with Video effects.
Audio Editing – The essentials of Audio editing are covered in this section.
Colour correction and grading – In this section, you will learn about Adobe recommendation colour correction workflow.
Colour Grading – You will learn what is colour grading and how to apply it in your projects.
Chromakeying – You will get to learn about concepts of chromakeying and how to work with it.
After effects – You will learn about Adobe After effects.
Animation – You will learn different types of animations such as type animation, logo animation, text animation and much more.
About Pro Mobile Video Editing Workshop
In case you choose to attend this 2 days long Pro Mobile Video Editing Workshop at STAENZ – you will learn multiple tools and techniques to create amazing videos using just your smartphone. In this workshop, you will learn how to create amazing videos with transitions, masking and effects using your smartphone.
What you'll learn in this workshop
Change colours of cloth's transitions – These transitions found their way from Tiktok and now they are getting increasingly popular on Instagram.
Stop motion animation – You will learn about creating digital ads with stop animation.
Create neon effects videos – These neon effects can be added in videos like dance videos to make them attractive and vibrant.
Create duplicate self – You can create your duplicate self on the screen.
Speed ramping videos on mobile – Make videos smoother with adjusting and ramping the speed of videos.
Face replace techniques – You can make memes or funny content with face replace techniques
About Video Editing Expert Trainer – Tanmayee Deshpande
Tanmayee Deshpande is a certified Adobe Premier Pro and a video editor who works on different types of videos such as social media reels and different ads with various tools and applications.
Attend a demo session. Tanmayee Deshpande the expert trainer will conduct an overview demo session covering basic information and opportunities related to Video editing.
Gallery
You will be learning different types of animation, motion graphics, multi camera setup and green screen setup and much more in this course .
After the course you will get 100% placement assistance from STAENZ team
Contact Information
Address: Ashoka Marg First Floor, Savitri Building Beside IndusInd Bank Ashoka Marg, Nashik – 11
Contact number: +91 844 844 9874 / +91 832 950 5588
Email: [email protected]
2) ZICA zee institute of creative art
Zee Network is India's largest Media conglomerate with a presence in Broadcasting, Content Production, Cable TV, Movies and Music. Zee Institute of Creative Arts (ZICA) is a well-known and Full Fledged Digital Animation Academy that conducts training in 3D animation, VFX courses, Graphics, Web Designing and Digital Marketing.
Types of courses offered
3D and 2D animation
Visual effects
Gaming
Web design
Graphic design
Digital video and audio editing
Digital photography
DURATION OF COURSES
Professional program in visual effects – 12 months
Program in composting – 6 months
Program in game art – 6 months
Program in advance game art and design – 6 months
Program in game development – 6 months
Program in web design and graphic design – 12 months
Program in digital and audio editing – 3 months
Program in Digital photography- 3 months
Contact Information
Address :- 4th FLOOR SIDDHIPOOJA TRADE CENTER, College Rd, opp. B.Y.K COLLAGE, Nashik, Maharashtra 422005
CONTACT:- 8793052227/8793052227
EMAIL:- [email protected]
3. Magix animation institute
Magix Institute of Animation and Multimedia Institute, based in Nashik city, provides education in the field of computer graphics and animation. They train students in all areas of multimedia including Print & Digital Design, Web Design and Development, 2D-3D Animation, Audio, Video Editing, VFX etc.
At Magix, they are dedicated and passionate about the multimedia industry. They offer Career advice sessions that are FREE with no high pressure sales. They provide unbiased, genuine advice and guidance.
Types of courses offered
Graphic design
Web design
Architectural design
Video editing
2D animation
3D animation
VFX
Degree in animation
Duration of courses
Graphic design – 4 months
Web design – 7 months
Architectural design – 1 YEAR
Video editing – 7 months
2D animation – 1 YEAR
3D animation – 1 YEAR
VFX – 6 months
Degree in animation – 3 years
Contact info
Address :Magix Institute of Animation
Address : 2nd Floor, Shalimar Tower, Shalimar Chowk Nashik. 422 001
Phone : +91 90286 85114
Email : [email protected]
4. NAC ANIMATION INSTITUTE
NAC was started in 2011 by the CEO Mr. Dipak Pund who has 14+ years experience in the field of Animation. Both beginners and professionals can find the perfect solution for creating, designing, achieving, and proving oneself. NAC has been working for students since the last 9+ years.
Types of courses offered
Advanced 2D, 3D, Visual effect master
2D, 3D animation (prime)
3D, Visual effects
Advanced course in Gaming
Advanced 2D animation pro
Advanced 3D animation pro
Advanced visual effects pro
Advanced graphic design
Duration of courses offered
Advanced 2D, 3D, Visual effect master – 2.5 years
2D, 3D animation (prime) – 2 years
3D, Visual effects – 2 years
Advanced course in Gaming – 2 years
Advanced 2D animation pro – 1 year
Advanced 3D animation pro – 1 year
Advanced visual effects pro – 1 year
Advanced graphic design – 6 months
Contact information
Address – 12+13 Ground Floor Suyojit Sankul, Sharanpur Rd, Nashik, Maharashtra 422001
Contact no – +919970035799/+919167220291
5. ARENA ANIMATION NASHIK
Arena animations provides a platform for students to unleash their creativity and bring out their maximum potential forward. Since 1997, Arena Nashik has been delivering quality training that makes students ready to face all the challenges of the world. They have the best faculty and provide all facilities needed for the students to progress in their chosen fields. They aim for 100% placements.
Types of courses offered
Animation, VFX and gaming
Web and graphics
Multimedia
Animation
Digital design
Broadcast
Duration of courses offered
Animation, VFX and gaming
Web and graphics
Multimedia
Animation
Digital design
Broadcast
Course highlights
Share your creative portfolio with the world, get feedback from experts, find job opportunities and get hired.
Instant student loan facility to fund your studies at Arena, with real time loan eligibility check & instant approval confirmation.
Onlinevarsity is Arena's learning app for students. They can have exclusive access to course material, discuss doubts & problems with professors, plan activities & projects, get reference material, etc.
Create rich multimedia content for print or TV ads, visually appealing websites, logos for advertisements, etc.
Contact info
Address – 15, Shree Gajanan Complex 2nd Floor, Above Archies Gallery, College Road, Nashik
Contact no – 8668393632
6. Maya Academy Of Advanced Cinematics Nashik
Maya Academy Of Advanced Cinematic that has been creating benchmarks in the industry of media and entertainment. It leaves no stone upturned to build the career of its students.
MAAC Animation Institute is one of the oldest and quality oriented
players in the segment, thus ranking it highest among the top animation
training academy in India. Experienced trainers with production experience in their respective fields will train
you to high levels of expertise.
Types of courses offered
3D Animation
Game design
Augmented and virtual reality
Multimedia and Design
Broadcast
VFX
Course highlights
Wide range of courses
Up to date curriculum
Focus on growth and development
Trained faculty
Job placement assistance
Contact info
Address – MAAC ANIMATION ,1ST FLOOR, R SQUARE BUILDING, NEAR BYK COLLEGE, THATTE NAGAR ROAD, NASHIK 422005
Contact no – +91 9422850022
nashik – [email protected]
7. DISHA INSTITUTE OF COMPUTER SCIENCE
More than 40,000+ students include all the branches learn from e-learning software of Disha. Low fees & 100% Quality, Ample Time for-practice with Latest peripherals, Experience & Trained Faculty, Network of 100 branches all over India.
Courses offered
Animation courses
Graphic design
Diploma in Graphic design
Web designing
Duration of course
Animation courses – 2 months
Graphic design – 3 months
Diploma in Graphic design – 6 months
Web designing – 6 months
8. Adobe Premier Pro CC masterclass by Udemy
Udemy is an online learning and teaching marketplace with over 204000 courses and 54 million students. Learn programming, marketing, data science and more
Topics covered in this course
How to save and export videos in 4K HD quality for smooth playback on any device
How to create and design professional titles for your videos
How to integrate visual enhancement tools
How to add audio and video transitions
Duration of this course
The duration of this course is 24.5 hours on demand video with 28 downloadable resources and full lifetime access.
Throughout 6 courses you will learn all the features and tools offered by Premiere Pro to create quality videos.
9. Video editing fundamentals by LinkedIn Learning
LinkedIn Learning is an online educational platform that helps you discover and develop business, technology-related, and creative skills through expert-led course videos.
With more than 5,000 courses and personalised recommendations, you can discover, complete, and track courses related to your field and interests.
Topics covered in the course
How to design materials for microlearning
How to create 360 VR story spheresC
How to create slides with looping movies
How to increase the signal to noise ratio
How to create a digital playground
Duration of the course
4 to 5 hours of self paced course
10. Mastering Final Cut Pro by Coursera
Coursera is among the most popular online learning platforms for technical as well as non-technical courses. Coursera courses can be audited for free and certificates can be obtained by paying.
Topics covered in this course
Introduction, Import and Organize
Video Editing
Audio Editing
Transitions, Effects and Transforming
Titles and Motion Graphics
Course Duration and highlights
Shareable Certificate Earn a Certificate upon completion
100% online Start instantly and learn at your own schedule.
Flexible deadlines Reset deadlines in accordance to your schedule.
Beginner Level – Knowledge of macOS and basic computer navigation – Basic knowledge of video editing terminology is recommended
Approx. 40 hours to complete
Conclusion
Video plays a huge role in our modern society. Every new product or album launch will be usually be accompanied with a promo video or a teaser. You just need a laptop, an internet connection and yes some dedication and you can be an amazing video editor. Videos are used across many industries – from marketing to finance – so there are opportunities for those who have the skills to create powerful videos.
Any doubts? Feel free to shoot your queries in comments section or give us a call on +91 8448449874