Nashik: Ah, the city of ancient temples and beautiful rivers doesn't seem like the right place for a Asia's Best Digital Marketing Course Institute to operate. Right? Definitely, not! Don't be mistaken though!
Nashik is an emerging tech center in the state and has several software companies flocking the region. And considering the fact that there are many Digital Marketing Courses in Nashik but STAENZ Academy's is one of the most sought after, more and more people are showing their interest in signing up with STAENZ.
Admit it. You have probably thought of enrolling yourself in a Digital Marketing Course because people have told you it's a great way to learn marketing and launch your career in digital. But there are many misconceptions that surround this course, most of which are not true. Here I am listing 11 common misconceptions about the best Digital Marketing Course from STAENZ Academy. I hope I am able to clarify some of your doubts regarding this course!
Misconception 1: The best Digital Marketing Course in Nashik is Online
The best Digital Marketing Course in Nashik is offline and online – with two trainers for one classroom. 
This is a common misconception that many people have, but it's not true that it's just online. The courses offered at STAENZ are kind of Hybrid Courses i.e. you can choose online or offline, may be on a rainy day you too wish to attend the regular classroom class from your home. You can either attend the class in the classroom or from the comfort of your home!
You always have a trainer in the classroom assisting you with the practicals and doubts and you have a master trainer helping you with the concepts, strategies and assigning tasks.
Misconception 2: The best Digital Marketing Institute in Nashik doesn't pay personal attention to each student
When you think about the best Digital Marketing Institute in Nashik, you will have some expectations. One of the common misconceptions about it is that it does not give personal attention to each student.
The truth is that there are various ways in which our trainers and staff reach out to students to help them with their studies and provide one-on-one support if required. You can get access to your trainer, assistant trainer, training director through Telegram in case you need any guidance during your course period or later on as well. Our training coordination team also keeps a track on all the students enrolled at our institute so that they can address any issues faced by them immediately.
Misconception 3: The Best Digital Marketing Academy in Nashik is so expensive
You might have heard that the best Digital Marketing Institute in Nashik is expensive or costly. This is not true. The best digital marketing course in Nashik, India is offered by STAENZ which charges affordable fees for its courses.
The best Digital Marketing Course in Nashik is not the most expensive one! There are other institutes offering digital marketing courses like IIDE or DigitalVidya which charge far far higher than STAENZ but cover less number of topics as well.
We at STAENZ believe that technology should be accessible to everyone and hence we offer our courses at an affordable rate, though not cheap, so that you can learn about Digital Marketing without burning a huge hole in your pocket but still choose to learn from the best trainers and in the best possible environment.
Misconception 4: It's easy to learn digital marketing in Nashik
Learning digital marketing is not an easy task nor a difficult task. You can learn it if you have the patience and desire to do so. Anyone can learn this skill if they really want to learn it. The best part about digital marketing is that it can be learned remotely, through hybrid courses such as this one in STAENZ.
Misconception 5: You can become an expert at digital marketing after learning the best Digital Marketing Course in Nashik
You can become an expert at digital marketing after learning the best Digital Marketing Course in Nashik, but it will take some time.
You will need to put in the effort to learn.
You will need to learn from your mistakes.
You will need to practice what you have learned.
And most importantly, you must be passionate about it!
Misconception 6: You will become a Certified Digital Marketing professional by learning at STAENZ in Nashik
STAENZ's DMEP digital marketing course in Nashik will make you a certified Digital Marketing professional. However, the training will only teach you about digital marketing and give you the foundation for becoming a professional.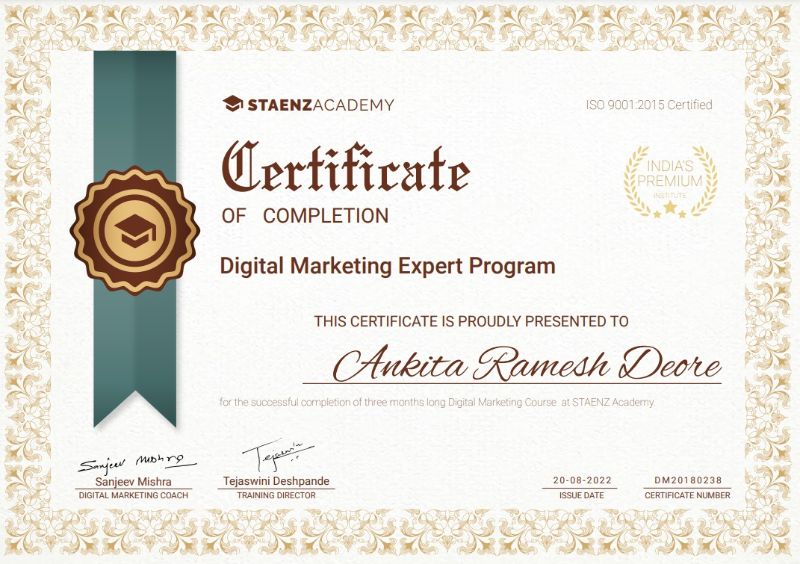 You also have to clear the final exam which is conducted by STAENZ. This exam tests your knowledge about different aspects of Digital Marketing including social media marketing, blogging & content marketing, email marketing etc., If you don't clear this exam then no certification will be awarded to you. Plus you get timely assignments and tasks which are to be completed and submitted on time to get the certification.
Misconception 7: There are no good instructors for digital marketing in Nashik.
You can find many good trainers and assistant trainers in STAENZ who will support you in your entire journey of Digital Marketing. Sanjeev Mishra sir is a master trainer who conducts multiple master sessions, super sessions and topic specific extra sessions for all the students.
You can verify it by reading reviews and checking their background as well.
Misconception 8: It issues Internship Certificate without real internship
You will not be issued a certificate if you don't complete the internship.
The Internship Program at STAENZ is a comprehensive program with a strict schedule and multiple practical tasks and live projects. The internship program exposes students to working culture, team spirit, difficult LIVE projects, client communications and discipline.
STAENZ is the best Digital Marketing class in Nashik and it does not issue certificate without you actually complete 3 months or 6 months long internship
Misconception 9: It provides no support to students after the Digital Marketing Course is completed
If you have heard that the best digital marketing institute in Nashik does not provide any support to students after the Digital Marketing Course is completed – This is a misconception because STAENZ provides every possible support to our students even after they pass out from us.
For instance, we provide internship opportunities, job placements and career counselling for our students so that they can get proper guidance on how to build their career as a professional Digital Marketer. The Facebook group community of STAENZ Nation is one such example where hundreds of alumni studied at STAENZ Academy help current students and other alumni by sharing their experiences through this group page.
Misconception 10: The best digital marketing academy in Nashik has only one Digital Marketing Course
There is a misconception that there is only one Digital Marketing Course taught in Nashik. The best digital marketing academy in Nashik offers multiple courses i.e. 4 months long DMEP (Digital Marketing Expert Programme) certification program, 11 months long Advanced Digital Marketing Diploma (PGDDM), Social Media Course, SEO Course and Video Editing & Marketing Course. This means you can choose the course that best fits your needs, time constraints and requirements.
Misconception 11: It does not provide job & placement assistance to students
STAENZ digital marketing academy not only provides placement assistance to its students but 100% Job Placement guarantee. STAENZ alumni are placed at various prestigious companies like Group M, Zee News, Zomato, Byju's, Nethority, Proceed Digital, Sprout Media, Capgemini, OMX technologies and many others.
All of the above are misconceptions, you should know what you need and what you should look for in a Digital Marketing Institute in Nashik
The "Two Trainer Model" Digital Marketing course at STAENZ is not just a certification program – it is an experience to be a lifelong member of helping, energetic, enthusiastic Digital Marketers with contagious vibes.
STAENZ Academy in Nashik DOES NOT JUST PROVIDE A CERTIFICATION PROGRAM! It has created an experience which will make you as confident as you want to see yourself in this ever growing field of Online Marketing!
Conclusion
Digital Marketing is the future of marketing, and it will continue to grow in importance. This is a great time to start learning about digital marketing and preparing yourself for success in this field.
If you have any doubts regarding learning Digital Marketing or how it can help you progress your professional career or earn freelance income – you can always write to me here.
If you are looking to attend a Demo Session before joining the course – fill up your details below. Someone from STAENZ will for sure get back to you with the details about the upcoming demo session on Digital Marketing.