Digital marketing has seen a huge boom in past few years. Digital marketing skills are in serious demand. Right from small to big brands, everyone is turning towards digital marketing. When we say, digital marketing jobs India, there are indeed many opportunities. The opportunities are for marketers as well as for job seekers for digital marketing career in India. Bigger budgets, increased pay and more career choice are just some of the benefits digital marketing professionals can look forward to this year and beyond.
If we look at the graph of digital marketing in India, one can see a drastic rise in it. The field is in demand with infinite opportunities to look for. Digital marketing encompasses, even more, roles and skills than marketing ever before, and it's this flexible, versatile nature of the business that makes it so fascinating.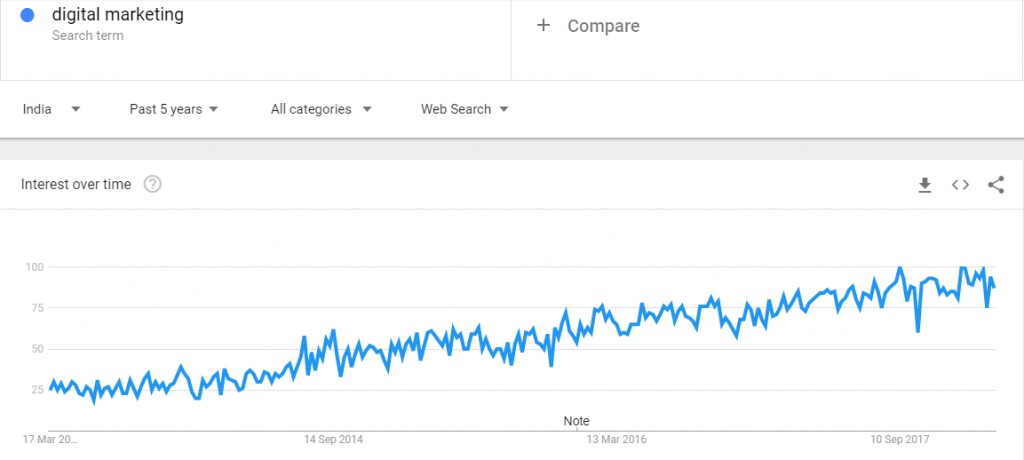 Government steps with "Digital India"
In order to transform the entire ecosystem of public services through the use of information technology, the Government of India has launched the Digital India programme with the vision to transform India into a digitally empowered society and knowledge economy.
Now, the opportunities are not only available in metro cities but also in small towns. Government has also come up with application for Employment programs. Everything is going digital these days. Thus, if we talk about, digital marketing career in India, then you are at the right place. Stop debating over the choices and get to know what benefits it hold.
Digital marketing job titles
Content Marketing Manager
Digital Brand Manager
Digital Marketing Manager
Director of Digital Marketing
Internet Marketing Director
Internet Marketing Specialist
SEO Manager
Social Media Marketing Analyst
Social Media Marketing Manager
Here are 7 Benefits of Having Digital Marketing Jobs and Career Opportunities in India
1. Freedom
There is a lot more freedom when it comes to digital marketing. If you are into this field, then be sure that you are having a cool job. You also get the opportunity to work from home (depends on your employer).
Everyone wants to make use of all the digital platforms to give updates and to sat update. If we take up the example of Mumbai Police, then they are really active on Twitter. They provide every minute detail to the citizens with their tweets
To make it interesting, they also provide quality content for user engagement. It has happened first time in the country that a state police is making use of social media heavily.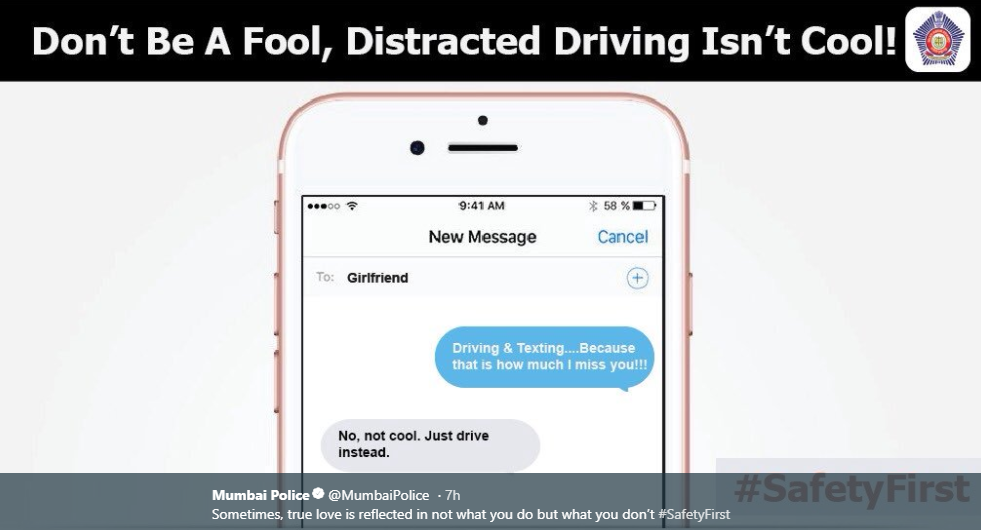 Thus, the freedom in digital marketing is not about the work culture, but it is also about the work. Any random idea can be a big hit here. All you have to is connect with the brand and make it interesting.
2. Digital marketing is on the boom
As its flexible and versatile nature makes it so fascinating, the demand for digital marketers is highly on rise these days. There is plenty of room for people looking to enter the world of digital marketing and related careers.
Those who have the technical intellect and familiar with the technologies like SEO and SEM, there is a boom for this specialization. The whole world is turning towards digital marketing these days. And the demand is going to get tripled in the coming years.
Even celebrities these days prefer digital marketing to endorse themselves. Any movie promotion or any product they endorse, they do it through social media. For example, ace Indian cricket captain Virat Kohli gives all the updates through his social media profiles to the whole world. Obviously he don't have much time to sit and post updates. Therefore,the digital marketing agencies do this for these celebrities.
So these social media agencies also run campaigns for celebrities to market their face. Now that, the individuals are also relying highly on digital marketing, then there has to be a boom in this area. The law of demand applies here as well.
3. Scope
This is a field that's ever-changing and engaging; there's always something new to learn. And if you work in an agency, you'll always be working with different clients, which means you'll probably never get bored.
Even there are a lot of freelancing options available where you can work from home or work occasionally as per the assignments. There are a lot of web portals like Naukari, Indeed, Upwork, Freelancer that has freelancing opportunities in this field.
Digital Marketing industry is booming not just in India but all parts of the world. The year 2016 took the industry by surprise with over 1.5 lakh job opportunities in the Digital Marketing domain. Well, the following was a bigger surprise when only the first quarter of 2017 marked for 8 lakh job opportunities.
4. Good salary
When a job is in demand, there is a scope to negotiate on salary. According to Payscale, the average salary of a Digital Marketing Manager is ₹412,492 per year.
The raise that you get is also at regular intervals. The more you showcase the skills, the more you will be paid. For freelancers, this is a good opportunity as they can perform good and bid higher for the next assignments. The average full-time salary for those who are willing to start with no experience is about ₹355,742 – ₹ 1,374,865 per year.
For beginners, the salary is pretty good as the job is east but yes, really creative. But once you get a hang of it, it the coolest job on this planet.
5. Don't have to go door-to-door to market the product
Unlike traditional marketing, you don't have to go door-to-door to sell the product.Since everything is on the fingertips these days, you can sit and sell the product through digital marketing.
Today it is not just about any product, these days hotels and restaurants are also taking help of digital platform to promote their food and the events they do on a daily basis. It gives a scope to the general public to choose where they would like to go today.
So, because of this field, the people who are working there will be saved big time from going anywhere and do their work form one place. This will save their time and energy and the marketing team will be able to utilize their skills in more efficient manner.
6. No specific qualification required
A good news if you are seriously thinking to kick-start a career in digital marketing, you don't need any specific qualification. The minimum qualification is graduation in any field. Since this field is only about being creative and have good communication skills, you are good to go.
Many times it is seen that engineers are doing digital marketing or interested in some area of digital marketing because they are creative. But even if you want to learn the basics of digital marketing, there are a lot of digital marketing courses available in this regard.
Not only is there plenty of opportunities for creatives to do their thing in writing, design and even video and audio production, there's also plenty of room for day-to-day creativity in a general sense. You will always be having to think of new ways to market products, solve problems, and engage audiences.
7. The industry is always evolving
As the demand is rising day by day for digital marketing, this industry will always keep on evolving with time and demand. There are numerous branches to this field which will make you work with many specialists. This creates an environment of working together on different lines but building marketing strategies for a particular brand.
The underlined statement here is that you will learn and earn at the same time. The growth in this field is fast and steady. This kind of job only needs creativity, problem-solving skills and how you engage your audience with your product. Therefore, once you know how to sell the product without letting the audience know that you are selling the product, then you are on the right track.
The field of digital marketing is a self-teaching one. You have to learn as you evolve. If you are curious, innovative, proactive and have good leadership skills, then you are going to ace this field.