When you are learning digital marketing, you need to understand the fact that, it is important to complete certain digital marketing certifications if you want to add value to the course that you are doing. And to take this into consideration, Google offers many types of certification courses in varied fields and that too for free. So there should be no hesitation to take up these courses. When I thought of taking up the Google certification, I started with the basics. And I took up the Google My Business Certification.
The process is really simple. If you understand the concepts of Google My Business and know how it functions, then the exam is going to be really easy for you. So I will give you a step by step guide here so that it will help you in completing the course.
Log in
Log in to the URL: https://academy.exceedlms.com/. Once you open the page, you can log in through your existing Gmail email id. So once you log in, it will ask you to give access to your email account. All you have to do is click on the "Allow" button and proceed. See the screenshot below.
Once you click on the Allow button, you will have to agree to the terms and conditions and proceed with that too. Once you do that, it will ask you to update you academy for ads account by filling the given information. You just have to click on the "yes" button. And then click on the "Save and Continue" button.
Select the certification
After all of this, you will find a dashboard in front of you where you need to select the certification of "Google My Business Basics" and proceed with that. You will find a lot of other courses. But right now our priority is to complete the Google My Business Certification.
In case it does not appear under "Featured" section, you can search for the term "Google My Business Basics" and you can get to start the certification process.
Take the test
Once you click on the Google My Business Basics, you will be directed towards a new window where you can start your test. You can click every lesson one by one, read it and complete the test below it. Every lesson is about 6 to 7 minutes long. And trust me, it is really easy if you are reading the lesson carefully and understanding it.
After finishing the lessons, you will have to give the final test in which you have to at least answer 11 questions correct out of 12. If you are not able to do that, you fail the test and you can again give it. So focus on answering all the 12 questions right while giving the final test of Google My Business basics. And to make it easy for you, the questions are multiple choice. So it is anyways going to be easy.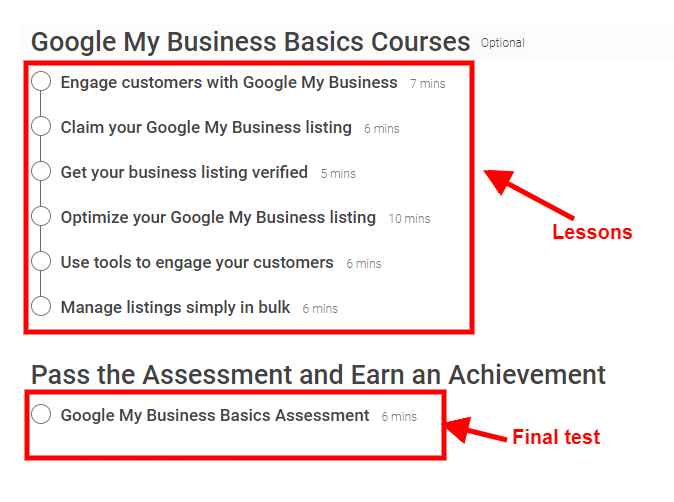 Get Google My Business Certified
If you are giving the test and in the final test you give all the answers correct of the 12 questions, then you become eligible for a certificate. You can take a look at my certificate in order to see how it looks like!
So if you are thinking to do the certification, I would suggest you go for it right away as it is not going to consume much of your time. It is really easy and all it is going to do is that it will add value to your knowledge. All the best!